by Roger Borrego | March 20, 2019
Blog/ Drugs and Alcohol
The opioid epidemic -- which President Donald Trump recently declared a national emergency -- continues to destroy communities, families and lives at an alarming rate. Deaths from prescription opioid abuse have more than quadrupled since 1999, and more than four in 10 Americans say
prescription painkillers are a "crisis" or "very serious problem"
where they live. And new research suggests that the
opioid abuse
could be dragging down the economy by keeping Americans out of the workforce.
Since 1972, Gallup has asked U.S. adults 14 times to assess how much progress the U.S. has made "over the last year or two in coping with the problem of illegal drugs." Since 2003, opinions have been divided but stable. Currently, 5% of Americans say the nation has made "much" progress, 33% say "some" progress, 26% say it has "stood still," 19% say it has lost "some ground" and 14% say "much ground."
The latest results are based on Gallup's annual Crime poll, conducted Oct. 1-10, shortly after Congress passed sweeping legislation meant to prevent opioid addiction and help those who are addicted. The final bill, which President Donald Trump signed into law on Oct. 24, received broad bipartisan support and could explain the bump in the public's view that the nation is making progress. Additionally, a number of states have passed legislation aimed at tackling the opioid epidemic, and those actions may be influencing Americans' views.
Gallup's question asks broadly about "illegal drugs," but given the magnitude of the opioid crisis in the U.S., it is likely that opioids are one of the top drugs Americans think of when they hear the term "illegal drugs." Last year, more than 72,000 people in the U.S. died from drug overdoses, and opioids were involved in about two-thirds of those deaths. Since 2013, opioids have nearly doubled as a cause of overdose deaths, but government data suggest that opioid overdose deaths may have begun leveling off in the latter part of 2017.
Although members of both parties were able to come together in passing legislation to address the opioid epidemic, rank-and-file partisans are far apart in their views of the progress on dealing with illegal drugs. As with many issues today, the political polarization on this issue is wider than ever. With a Republican in the White House, Republicans and Republican-leaning independents (55%) nationwide are twice as likely as Democrats and Democratic-leaning independents (27%) to say the nation is making progress. Throughout the trend, partisans from the sitting president's party have been more likely to say the U.S. is making progress, but the current 28-point gap is by far the largest historically and much greater than last year's 13-point gap.
Majority of Older U.S. Adults Now Support Legal Pot
Among Americans aged 55 and older, views that marijuana should be legalized now surpass the majority level, with 59% support, up from 50% last year.
Meanwhile, solid majorities of younger adults have supported legalization for several years. Support is strongest among adults aged 18 to 34, at 78%, while nearly two in three adults aged 35 to 54 (65%) approve of legalizing marijuana.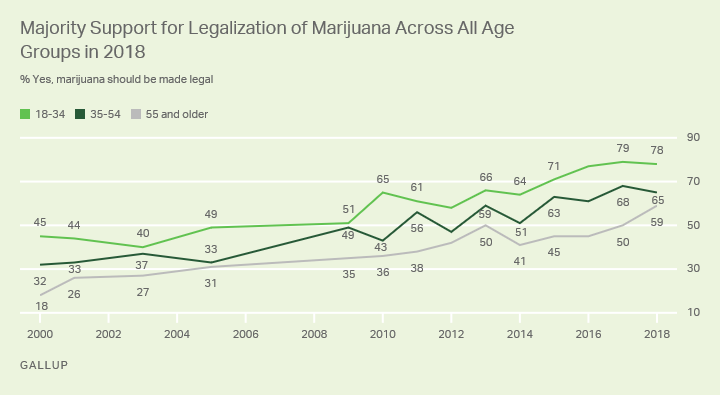 Only About Half of Addicted Family Members Sought Treatment
Most who sought treatment made a complete recovery or got better
According to the recent
USA
Today
/HBO Family Drug Addiction poll, only about half of Americans who have had a family member with an addiction to drugs or alcohol say their family member ever sought treatment. The vast majority of family members interviewed say their addicted relatives who sought treatment got better or completely recovered. Respondents who say their addicted relative completely recovered attribute family support or pressure, self-determination, or health scares as the major factors assisting that recovery.
In the survey, Gallup interviewed 902 adult Americans who indicated that an immediate family member has had an addiction to drugs or alcohol. Roughly one in five of all Americans contacted for the poll met these criteria.
More survey respondents say their family member has overcome his or her addiction (41%) than say he or she is currently addicted (30%). The remaining 29% say their family member has since died or they are unaware of their relative's current condition. The majority of respondents who say their family member is still addicted believe that he or she does not want to recover.
One of the challenges in overcoming substance addiction is getting the person to admit he or she has a problem. The poll results underscore this. Slightly more than half of the respondents, 54%, say their family member admitted to them that he or she had an addiction. This is the case even though 69% of respondents say they have personally confronted their family member about the addiction.
Those who confronted their addicted family member were much more successful in getting him or her to admit the addiction (65%) than those who did not confront their relative (29%).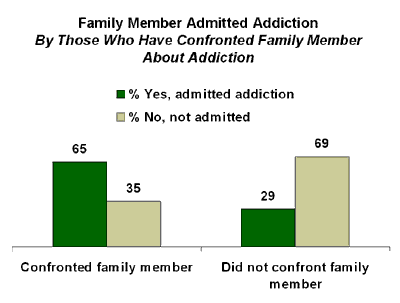 Seeking Treatment
Only about half of those surveyed, 49%, say their family member ever sought treatment to attempt to overcome the addiction. This includes 19% who say their family member sought treatment on their own, and 30% who did so because others intervened.
The poll suggests that admission can be a key factor in whether the addicted relatives sought treatment. Sixty-five percent of respondents who say their family member admitted their addiction to them say their family member sought treatment. That contrasts with 32% of respondents whose family member did not admit their addiction to them.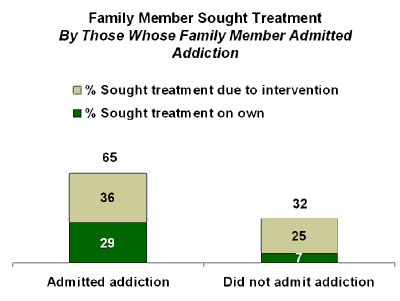 Similarly, those who say they confronted their family member about the problem were significantly more likely to report that their family member sought treatment (56% compared with 35% of those who did not confront their family member).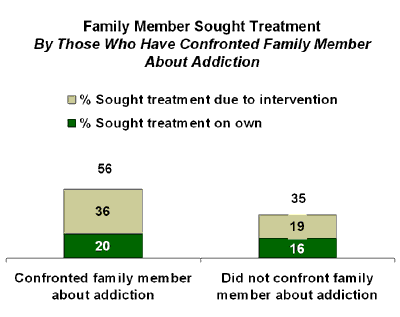 Overcoming Addiction
The data suggest that treatment for addiction appears to produce positive results, according to those who have family experience with addiction. The vast majority of poll respondents whose family member sought treatment say that he or she got better after treatment (82%), including 38% who report their family member made a "complete recovery." Just 14% reported that their relative showed no improvement after getting help.
Poll respondents were asked for their views of the main reasons their relatives were able to overcome their addictions. The top responses were: family involvement (23%), both in terms of support of, and pressure on, the addicted family member; self-determination or willpower (15%) on the part of the addicted family member; and health reasons (12%) including life or death experiences.

---
ADDICTION PREVALENCE
40 million Americans ages 12 and older—or more than 1 in 7 people—abuse or are addicted to nicotine, alcohol or other drugs. This is more than the number of Americans with heart conditions (27 million), diabetes (26 million) or cancer (19 million).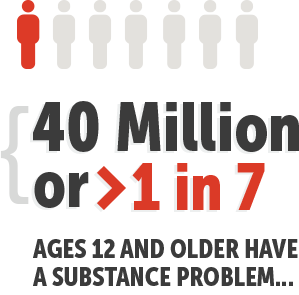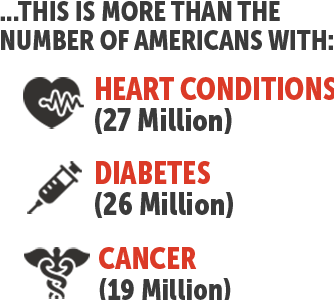 by Roger Borrego | March 20, 2019
Looking with the Supernatural Eye
This past weekend Lisa and I had an opportunity to spend an All-Day Startup Training at Hope Christian Church in Burien. Hope Christian is Relaunching New Heart Ministries on Thursday evenings at 6:30pm on Thursday April 11
th
. We are very excited to see how God has put their Leadership Team together. We have been meeting with their new Director Sal for 5 months preparing and planning. One of the key components we discussed with Sal in choosing his Team was waiting on God to bring together the members of their Leadership Team. It is far too easy to look with the natural eye and see or know gifted men and women who in the natural makes so much sense. These people in our churches have gifts, talents and natural ability to fulfill a role in ministry. But may not be God's choice to fill these roles. We asked him to pray with his Pastor and seek God together on a regular basis so that God would knit their hearts together and give them wisdom as they move forward with New Heart Ministries at their church.
In 1 Samuel 16 David was anointed King. What's interesting is that David surfaced to the Lord and Samuel but was unrecognizable to others because he was a shepherd. Samuel was praying and waited on God to show and present him openly only after seeking God with a whole heart. David had been prepared prior by the Lord with unorthodox methods of leadership. He developed trust in God while being alone in the wilderness with sheep. He learned how to worship, pray, defend his sheep and the art of warfare against his enemies. He was humble but had a warrior's attitude when needed. David had developed characteristics in the wilderness and out of the sight of men. He became a man after God's own heart not in the sight of man but before the quiet place of God.
1 Samuel 16:7-13
But the Lord said to Samuel, "Do not look at his appearance or at his physical stature, because I have refused him. For the Lord does not see as man sees; for man looks at the outward appearance, but the Lord looks at the heart."
8
So Jesse called Abinadab and made him pass before Samuel. And he said, "Neither has the Lord chosen this one."
9
Then Jesse made Shammah pass by. And he said, "Neither has the Lord chosen this one."
10
Thus Jesse made seven of his sons pass before Samuel. And Samuel said to Jesse, "The Lord has not chosen these."
11
And Samuel said to Jesse, "Are all the young men here?" Then he said, "There remains yet the youngest, and there he is, keeping the sheep."
And Samuel said to Jesse, "Send and bring him. For we will not sit down till he comes here."
12
So he sent and brought him in. Now he was ruddy, with bright eyes, and good-looking. And the Lord said, "Arise, anoint him; for this is the one!"
13
Then Samuel took the horn of oil and anointed him in the midst of his brothers; and the Spirit of the Lord came upon David from that day forward. So Samuel arose and went to Ramah.
David portrays and gives us a true example of how leaders declare themselves to people without making special announcements of their presence. It is too often that we select or feel we are forced to pick the obvious choice. That is a place where we can error and have repercussions down the road. The obvious choice is not necessarily the "Right Choice." When we select the wrong choice many times the fruit that follows is pride, wrong motives, false criteria and a hidden agenda.
David being the youngest son of Jesse, small in stature, a shepherd and developed by himself and not in community were all natural factors to disqualify him for the throne. But God! Sometimes when choosing leaders, we make the following mistakes just like the carnal man.
We judge by appearance.
We pick because of natural gifts, background and experience.
We choose because of recommendation and the thought of a "Natural Fit."
We don't pray, seek God or seek His counsel.
After much prayer Sal and Pastor Anthony have watched God bring His Team for New Heart Ministries Hope Christian! It turns out it happened exactly as we prayed. Now 12 people that were not thought of as to become Leaders are now God's choice! They waited on God and they were clearly not the natural picks at the beginning but have now been clearly knitted together. We are so excited to see what God has in store as they prepare to Relaunch. Victory is one step ahead!
There are more David's coming..
by Ron Brooks | October 18, 2018
Since the 30's, the standard of success for every recovering alcoholic, every drug addict, has been "clean and sober."
But, is the best we have to offer those struggling to "get their clean and sober feet" under them is a life filled with smoke-filled meetings and the self-declaration affirming again and again "I'm an alcoholic (addict)"?
Consider for a moment the timeless word of a "gracious, compassionate God;" one who is "slow to anger and abounding in love (Psalm 103):"
"I will give you new heart with new and right desires, and I will put a new spirit in you." Ezekiel 36:26 (TLB).
"Then you will know the Truth, and the Truth will set you free" (John 8:32).
"If any man be in Christ, old things are passed away and all things become new" (2 Corinthians 5:17).
Wow. Really? But, how is that possible? We're talking brain chemistry and environmental triggers and relational stressors and, and...
Yeah, it's overwhelming. It would take a miracle. It would take a power greater than myself.
Jesus said it this way: "Come unto Me all you who labor and I will give you rest" (Matthew 11:28). Rest, ah, sweet rest. Rest from white-knuckling my sobriety from hour to hour. Rest from the constant torment of the pain, the guilt, the shame, the anger.
Yeah, rest; real rest. It's time, don't you think? It's time to take God - this amazing, compassionate, healing, transforming, "Giver of new life" God at His word.
Every leader, every pastor involved in New Heart Ministry is commited to more - much more - than "clean and sober." They are commited to introducing you to the One - the Only One - who can give you "a new heart with new and right desires, and can put a new spirit in you."